This is an archived article and the information in the article may be outdated. Please look at the time stamp on the story to see when it was last updated.
The Los Angeles County fire captain who went missing days earlier has been identified as the man found dead in Montecito, with Santa Barbara County coroner's officials saying Monday he died from a self-inflicted gunshot wound.
A week after Wayne Stuart Habell went missing from his home in Newhall, authorities say the captain was found dead in a rural area of Montecito on Saturday — his death ruled a suicide by self-inflicted gunshot wound.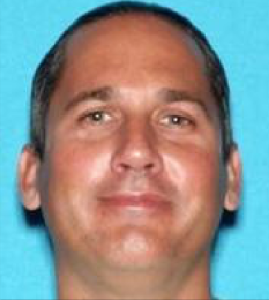 Fellow firefighters and loved ones of Habell, 43, started searching for him after he disappeared from his home in Newhall last Monday, authorities said. He was believed to be heading to a gym in Stevenson Ranch at the time and was last seen leaving his house at 7:30 a.m.
But on Friday, authorities found an SUV registered to Habell in a rural area of Montecito. As large-scale search and rescue efforts were subsequently launched in the area, officials eventually found a body in the same area at about 6 p.m. on Saturday.
A day later, a firefighters' union identified the body found as Habell, a 13-year veteran of the department. But the official identification by the coroner's office was not made until Monday.
When Habel's family and friends started looking for him a week earlier, fire officials said the department got involved in the efforts — using some of its resources to scour parts of the Santa Clarita Valley in the search.
"We are all devastated, not just his immediate family, but his brothers and sisters here in Los Angeles County Fire Department," Inspector Gustavo Medina told KTLA at the time. "All we want is for him to get home safe."
Search efforts continued for the rest of the week, moving into Santa Barbara County once Habell's black Crysler Aspen SUV was found there on Friday. That's when authorities started searching Hot Springs Trailhead in Montecito. A body was found in the area a day later.
The following morning, on Sunday, Habell's firefighter's union confirmed his death in an emotional post on its website.
"It is with great sorrow and a heavy heart that we come together again to stand with a brother's family and mourn the loss of one of our own," the post states. "Brother Habell was found."
The union said it's helping Habell's wife, Jennifer, and their children as well as his fellow firefighters through their mourning. It also continued with a poignant message about mental health.
We cannot afford to remain silent any longer—don't let depression live in the shadows.  Each day our members battle Post Traumatic Stress Injuries and Cumulative Stress Injuries.  We need to bring these issues into the light to ensure people get the help they need.  If you or someone you know needs help, please seek out resources and get help.  Don't be afraid to talk to someone.  Take care of each other!
The husband and father of three worked at fire station 73 in Newhall.
A GoFundMe fundraising page has been posted to help his family with funeral costs and other expenses. The post states it was created by a paramedic partner of Habell's, who wrote that Habell was his "brother" on the squad.