This is an archived article and the information in the article may be outdated. Please look at the time stamp on the story to see when it was last updated.
Officials at the U.S. Department of Veterans Affairs decided in September to put local VA officials in charge of $264 million that had previously been set aside for specific programs to help homeless veterans.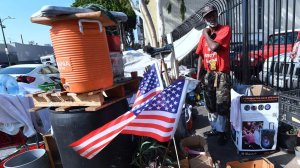 VA officials in Washington say the directive will help the agency's medical directors around the country respond to the changing needs of veterans as it seeks to improve medical care and prevent suicides.
But the shift has generated concern among L.A. County officials, who say it could result in about $34 million being diverted from paying case managers who help homeless veterans find permanent housing to fund other programs at the West L.A. VA Medical Center.
If that happens, they say, it could make the county's already severe veteran homelessness problem even worse.
Read the full story on LATimes.com.