This is an archived article and the information in the article may be outdated. Please look at the time stamp on the story to see when it was last updated.
A Veteran Los Angeles County lifeguard died Thursday during a swim training exercise at a Manhattan Beach high school pool, authorities said.
Brian K. Kutil was described as a "happy-go-lucky guy" who "gave 100 percent everyday," by lifeguard section chief Chris Linkletter.
The 42-year-old was participating in an annual 500-meter recertification swim exercise at Mira Costa High School, according to a news release from the county Fire Department's Lifeguard Division.
About 7 a.m. other lifeguards on the pool deck saw the El Segundo native struggling in the water and rushed to pull him out of the pool.
Kutil was treated by fellow lifeguards and Manhattan Beach Fire Department paramedics before being transported to Little Company of Mary Hospital. Manhattan Beach police said a swimmer was in "distress and having difficulty," and was then pulled from the water by lifeguards who began lifesaving efforts.
Police officers shut down intersections so rescuers could get Kutil to the hospital as fast as possible, said Inspector Chris Reade with the Los Angeles County Fire Department.
Despite "heroic efforts," Kutil was pronounced dead, the release said.
It was not clear what caused Kutil, described as a lifeguard specialist with 20 years in the division, to become ill.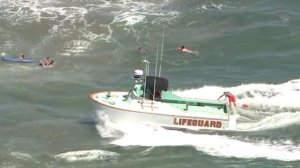 "All of us are shocked by this terrible early morning news," Fire Chief Daryl L. Osby said in the release. "Our hearts go out to his family, friends and his Fire Department family. Please keep everyone in your thoughts as we mourn his tragic loss."
A spokesman for the Lifeguard Division said Kutil was among those who worked to rescue nearly 200 people in one day from strong rip currents that hit the county's coast in September.
Video shot by KTLA Sky5 showed him jumping into the water toward several people stranded in rough seas off Venice Beach, the spokesman confirmed.