This is an archived article and the information in the article may be outdated. Please look at the time stamp on the story to see when it was last updated.
Grisly autopsy photos flashed on the screen in the Los Angeles courtroom. One focused on the spot where a bullet tore through the back of Susan Berman's scalp, another showed red splotches on her backside — places where blood settled after she was shot inside her Benedict Canyon home in 2000.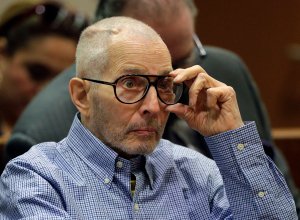 At the defense table, Robert Durst, who is accused of killing his close friend, stared at the photographs without expression.
The New York real estate tycoon appeared in court Monday for a preliminary hearing — a crucial step in the murder case prosecutors have built against him. At the end of the hearing, a judge will decide if there's enough evidence for the eccentric multimillionaire to stand trial in the slaying of Berman, a crime writer and the daughter of a Las Vegas mobster.
Prosecutors argue that Durst, who has pleaded not guilty, killed to cover his tracks — he was afraid Berman would tell investigators what she knew about the 1982 disappearance of Durst's wife, Kathleen, whose body has never been found.
Read the full story on LATimes.com.