This is an archived article and the information in the article may be outdated. Please look at the time stamp on the story to see when it was last updated.
More than 150 deputy public defenders gathered in downtown Los Angeles on Monday to protest what they say is an existential threat to the office: their new boss.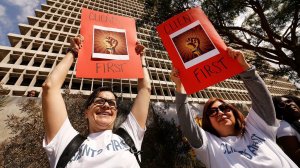 The lawyers chanted and wore "RESIST" T-shirts. They held signs reading "CLIENTS FIRST" and "We need a leader who knows Miranda, not HR propaganda."
Last month, the L.A. County Board of Supervisors appointed Nicole Davis Tinkham as interim public defender — the latest in a yearlong string of temporary appointments. The decision disturbed many within the office, who say Tinkham, who has never tried a criminal case, is woefully unqualified.
"Leadership without experience in the field is a recipe for disaster," said Deputy Public Defender Timothy McDermott.
Read the full story on LATimes.com.