This is an archived article and the information in the article may be outdated. Please look at the time stamp on the story to see when it was last updated.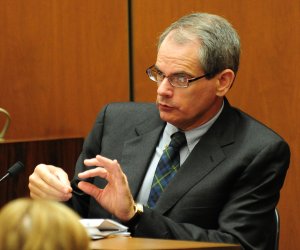 The Los Angeles County Board of Supervisors on Thursday appointed a longtime deputy in the coroner's office to the role of acting chief medical examiner-coroner.
Dr. Christopher Rogers becomes the second interim leader to helm the troubled agency as it grapples with a staffing shortage, case backlog and an anticipated lapse in its professional accreditation. His salary as acting director is $342,910.
The department's previous coroner, Dr. Mark Fajardo, abruptly resigned in March, citing a lack of funding and resources to properly lead one of the nation's busiest and most high-profile morgues.
At the time, about 180 bodies were stacked up at the morgue because of processing delays. The department handles more than 8,500 cases a year.
Click here to read the full story on LATimes.com.