This is an archived article and the information in the article may be outdated. Please look at the time stamp on the story to see when it was last updated.
When the Century Freeway opened in 1993, officials said it would almost certainly be the last of the great Southern California freeways, the final chapter in a romance with fast lanes that began just before World War II.
It offered a good example of why the ardor faded. The 105 violated environmental laws, displaced more than 25,000 people and left behind a legacy of noise and pollution in some of Los Angeles County's poorest neighborhoods. After decades of delays and bitter litigation, its price tag rose to $2.2 billion, making it the most expensive roadway ever built in the United States.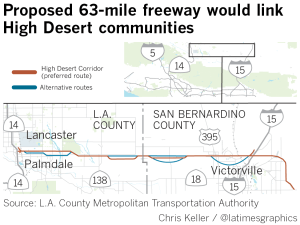 But now, with little fanfare, officials are again laying the groundwork for the construction of a new freeway.
The California Department of Transportation, in cooperation with a joint powers authority, will in June begin buying land to build a 63-mile high desert freeway connecting the Los Angeles County communities of Palmdale and Lancaster with the San Bernardino County communities of Victorville, Apple Valley and Adelanto.
Read the full story on LATimes.com.