This is an archived article and the information in the article may be outdated. Please look at the time stamp on the story to see when it was last updated.
Los Angeles County Sheriff Jim McDonnell says he understands the struggles of immigrants trying to make a better life in America.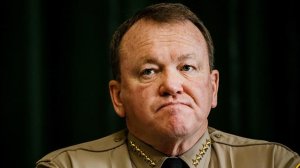 His parents moved to Boston from Ireland a year before he was born. His father was a laborer whose gigs included digging ditches.
But McDonnell now finds himself walking a political tightrope, breaking ranks with many other Los Angeles politicians by opposing a "sanctuary state" bill that aims to prevent federal immigration agents from taking custody of people being released from California jails.
In deep blue, immigrant-rich California, it's proven to be good politics for officials to stand up to President Trump's policies, especially over his promise of mass deportation for people in the U.S. illegally. But McDonnell and some other sheriffs who oversee jails say they have no choice but to make a stand against a sanctuary proposal that they believe is more likely to hurt immigrants than protect them.
Click here to read the full story on LATimes.com.