This is an archived article and the information in the article may be outdated. Please look at the time stamp on the story to see when it was last updated.
Los Angeles County Sheriff Jim McDonnell has come out in opposition to a so-called "sanctuary state" bill that would bar state and local policing agencies from using resources for immigration enforcement, according to a letter obtained by The Times.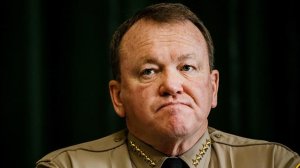 In the letter addressed to Senate President pro Tem Kevin de León (D-Los Angeles), who introduced the legislation, McDonnell said the measure would block sheriff's officials from safely transferring inmates with immigration violations housed in county jails into the custody of federal immigration agents, forcing those agents "into our communities in order to search out and find the person they seek."
"While doing this, they will most surely cast a wide net over our communities apprehending and detaining those not originally the target of the enforcement actions," McDonnell wrote.
Though the letter is dated March 9, De León's office received the document in an e-mail Wednesday, his staff said. Sheriff's Department spokeswoman Nicole Nishida confirmed the letter is authentic and was sent on March 9. She said McDonnell was unavailable for comment Thursday.
Click here to read the full story on LATimes.com.