This is an archived article and the information in the article may be outdated. Please look at the time stamp on the story to see when it was last updated.
Los Angeles County Sheriff Jim McDonnell learned for the first time about misconduct by some of his own deputies from a Los Angeles Times report this month that examined a confidential roster of problem officers, he said.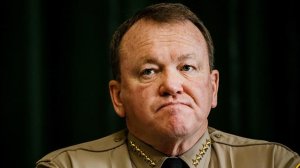 McDonnell tried to give prosecutors a version of the so-called "Brady list," but his efforts were blocked when a deputies' union sued him last year. The case is now before the California Supreme Court.
The sheriff said he feels strongly that prosecutors should have this information as they assess how to use his deputies in criminal trials. But as the leader of an agency with 18,000 employees, he said he does not always know about every allegation of wrongdoing in his agency.
Among the cases he said he learned about from the Los Angeles Times story was that of Sheriff's Sgt. Jose Ovalle. After Ovalle realized a bloodied inmate's shirt from a jail brawl was missing, he created false evidence by pouring taco sauce on a shirt, law enforcement records show. Ovalle's name was added to a secret list of about 300 deputies whose history of wrongdoing might affect their credibility if they testify in court, according to a version of the list from 2014 that was reviewed by The Times.
Read the full story on LATimes.com.