This is an archived article and the information in the article may be outdated. Please look at the time stamp on the story to see when it was last updated.
A Los Angeles County sheriff's deputy who was arrested on suspicion of drunken driving following a crash in Palmdale has been placed on administrative leave, authorities confirmed Monday.
Deputy Nicholas Smith, 24, has not been fired but will not be working for the agency in any capacity while the incident is investigated, Sheriff's Department Spokesperson Nicole Nishida said in an email.
Smith, who has been with the force for six months, was off duty when the crash occurred.
He was released from custody after being held for about 13 hours. His bail had been set at $30,000, inmate records show.
He was arrested after allegedly ramming his 2004 Chevrolet Colorado pickup into five other vehicles parked along 38400 block of 30th Street East around 2:45 a.m. Sunday.
Smith had allowed his truck to veer into the right shoulder just north of Avenue Q-6, the California Highway Patrol said in a news release. The parked cars became lodged together as result of the force, said CHP Sgt. Steve Geraty, who was at the scene.
At least one Mazda involved was totaled, said Marina Lopez, who lives on the street and said that car belonged to her son.
Lopez said she was jarred awake by the sound of the crash, which occurred right outside her bedroom window.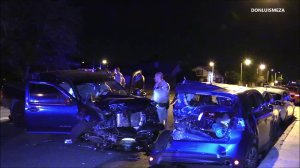 "I was all distraught and the poor guy was trying to get out of his car and I didn't even know what to do," she said. "I didn't even think of helping him or anything, I was just totally in shock."
Lopez recalled the driver "just kind of mumbling," but said her head was more with her children's vehicles, two of which were damaged in the incident. Now, she just hopes that Smith is "going to get some help and stuff and he really realizes what he's done."
Investigators believe Smith was under the influence of alcohol at the time. He could be seen completing field sobriety and breathalyzer tests in footage from the scene.
The deputy then appeared to break down in tears as he was handcuffed and arrested.
Smith was taken into custody at about 4:10 a.m. and released just before 5 p.m.
The 24-year-old Palmdale resident is scheduled to appear in court on Sept. 21.
Sheriff's officials were unable to confirm whether he had been placed on paid or unpaid leave.