This is an archived article and the information in the article may be outdated. Please look at the time stamp on the story to see when it was last updated.
The woman said the attack happened in a dimly lit part of the jail.
The officer ordered her to take off her clothes, then groped her breasts, the woman said. She claimed the lawman forced her into sexual acts again and again, threatening to remove her from educational classes if she did not comply.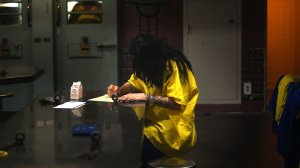 The woman's allegations are the latest to surface aganist Giancarlo Scotti, a Los Angeles County sheriff's deputy who was arrested in September and charged with sexually assaulting six inmates at the women's jail where he worked.
The former inmate, who made the accusations in a lawsuit filed Friday, also claims Sheriff Jim McDonnell and other county officials had been notified of Scotti's behavior and put the deputy on probation but allowed him to maintain contact with inmates. It was during this time, in August of last year, that the woman claims she was assaulted.
Read the full story on LATimes.com.