This is an archived article and the information in the article may be outdated. Please look at the time stamp on the story to see when it was last updated.
Drivers were being warned to brace for possible traffic delays and congestion with President Barack Obama slated to attend a series of fundraisers in Southern California on Monday and Tuesday, authorities said.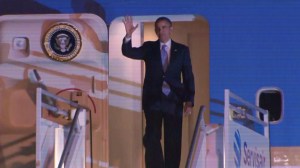 The president arrived at Los Angeles International Airport just after 5:30 p.m. Monday, about an hour and a half later than expected.
While specific details about his schedule were not released for security reasons, the Los Angeles Police Department issued an advisory urging drivers to expect delays on the streets surrounding LAX late Monday afternoon.
Mr. Obama started out Monday in Seattle.  He stopped briefly in San Francisco before arriving in Los Angeles.
During his L.A. visit, Obama planned to attend a series of fundraisers benefiting Congressional Democrats ahead of the 2014 midterm elections.
Two gatherings took place on Monday evening in Beverly Hills – one at the home of Earvin "Magic" Johnson.  The second gathering will be held nearby at the home of billionaire entertainment mogul Haim Saban.
During a short stop at the Beverly Hilton, President Obama met with the family of Gerardo Hernandez, the Transportation Security Officer who was killed during this month's shooting at LAX, a White House spokesman said. The President also met with Tony Grigsby and James Speer, two TSA officers who were wounded in the incident.
On Tuesday morning, the president plans to attend a fundraiser in Hancock Park. Later in the day, he will tour the DreamWorks animation studios in Glendale.
Dreamworks CEO and co-founder Jeffrey Katzenberg is one the president's biggest donors.
The Glendale Police Department advised residents the following streets would be affected Tuesday from 10:30 a.m. to 1:30 p.m.: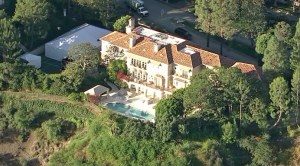 West to east: Riverside Drive, San Fernando Road and Grandview Avenue to North Pacific Avenue
North to south: West Kenneth Road to Victory Boulevard, San Fernando Road, 5 and 134 freeways
When the president departs LAX on Tuesday afternoon, streets surrounding the airport will again be affected, from 1:15 to 2 p.m.
Eric Spillman and CNN contributed to this report.