This is an archived article and the information in the article may be outdated. Please look at the time stamp on the story to see when it was last updated.
A brush fire next to the 2 Freeway in Glassell Park quickly spread to the attic of a Mormon church on Tuesday afternoon, leading to the collapse of the building's roof and leaving two L.A. firefighters injured.
Dark smoke billowed out of the church as flames leapt into the air, aerial video from Sky5 showed.
The Church of Jesus Christ of Latter-day Saints at 3845 Fletcher Drive suffered significant interior damage, according to the Los Angeles Fire Department.
Church members arrived at the scene to survey what remained of the house of worship. Some said they were grateful the frame of the building was still standing — and that no one was inside and injured when the blaze erupted.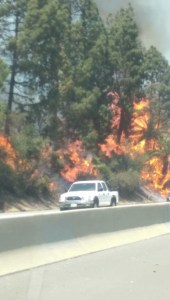 "It's a crushing and very devastating feeling, coming upon all of our membership here right now," said James Jenks, a former bishop and current spokesman for the church. "When you lose your place of worship like this, it leaves a kind of a vacuum."
The fire was first reported at 2:38 p.m. near the southbound 2 Freeway and North Verdugo Road, according to Fire Department spokeswoman Margaret Stewart.
It was initially described as a 1/4-acre brush fire burning uphill and exposing a church, but it quickly reached the church eaves and then engulfed the large, open attic, Stewart said.
The blaze showed the importance of brush clearance, she told KTLA.
"The hope now is they're able to contain it to the attic only and that the rest of the church interior can be saved," Stewart said about 3:45 p.m.
But the roof indeed collapsed later, causing significant damage to the inside of the church. Firefighters worked to retrieve important documents from the interior, Stewart said.
One firefighter was being treated for an extremity injury, and he was in good condition, Stewart said about 4 p.m.
A second firefighter was later reported transported in fair condition with an unspecified medical problem but no trauma.
A knockdown was called after two hours and 14 minutes. Fire units planned to remain on scene to apply water to any flare-ups.
The Glassell Park meetinghouse of the Church of Jesus Christ of Latter-day Saints has more than 400 members and is 25 years old, Stewart said. Church staff told the Fire Department no one was inside at the time of the fire.
The cause of the fire and the cost of the damage had not been determined by Tuesday evening.
Early in fight to save #FletcherFire church. Very steep pitched roof with tiles makes for challenging fight. pic.twitter.com/Keaj5SKQhe

— LAFD Talk (@LAFDtalk) July 7, 2015
More Video: