This is an archived article and the information in the article may be outdated. Please look at the time stamp on the story to see when it was last updated.
Firefighters rescued a man from the middle of the rain-swollen Los Angeles River on Thursday.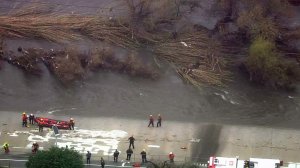 Authorities were called to the river at Fletcher Drive — at the edge of Silver Lake and Atwater Village — just before 11 a.m., according to Brian Humphrey of the Los Angeles Fire Department.
A man believed to be 47 years old was on safe footing on a vegetated island in the middle of the river, Humphrey said. The river's water speed was meanwhile estimated at 10 to 12 mph.
Nearly 100 Fire Department personnel responded in the water, in the air and on the ground, including the Swift Water Rescue Team.
Rescuers reached the man, who was given a helmet and life vest and placed into a raft. The vessel was then pulled back some 25 feet to the concrete embankment at about 11:50 a.m., aerial video from Sky5 showed.
Los Angeles police initially reported the man being stranded to LAFD.
The river bottom in that area is often occupied by homeless encampments, and river rescues during seasonal storms are not uncommon.