This is an archived article and the information in the article may be outdated. Please look at the time stamp on the story to see when it was last updated.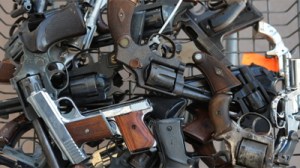 LOS ANGELES (KTLA) — The City of Los Angeles will host its annual gun buyback program on Saturday, May 4, officials announced.
The mayor's Gang Reduction and Youth Development Office is teaming up with the LAPD for the program.
People can surrender their firearms anonymously, with no questions asked.
In exchange for the gun, they will receive a Ralphs or Visa pre-paid card — up to $200 for assault weapons and up to $100 for handguns, rifles and shotguns.
The event will run from 9 a.m. to 3 p.m. Organizers ask that firearms be transported unloaded in vehicle trunks.
Firearms that are surrendered will be checked to see if they are stolen, organizers say.
Those weapons will be returned to their rightful owners. The rest of the surrendered guns will be destroyed by the LAPD.
The Gun Buyback Program has collected nearly 10,000 firearms from across the City since 2009.
The buybacks are usually in May around Mother's Day.
However, the city held a buyback on Dec. 16 in response to the Sandy Hook school shooting that netted more than 1,500 weapons.
You can drop off firearms at one of these four locations:
Central Los Angeles — LAPD Northeast Area
LAFD Fire Academy
Frank Hotchkins Training Academy
1700 Stadium Way
Los Angeles, CA 90012
Valley — LAPD Van Nuys Area
Van Nuys Masonic Building Assoc.
14750 Sherman Way
Van Nuys, CA 91405
South Los Angeles — LAPD 77th Area
Bethel African Methodist Episcopal Church
7900 South Western Ave.
Los Angeles, CA 90047
South Los Angeles — LAPD Harbor Area
Park & Ride Parking Lot
1300 West Pacific Coast Highway
Wilmington, CA 90744