This is an archived article and the information in the article may be outdated. Please look at the time stamp on the story to see when it was last updated.
Los Angeles NAACP President Leon Jenkins resigned Thursday amid the scandal surrounding racist comments made by Clippers owner Donald Sterling.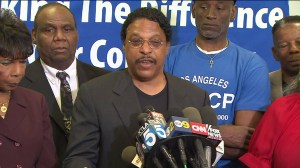 The local chapter was under fire for planning to present Sterling with a lifetime achievement award at a banquet later this month.
This would have been the second award given to Sterling by the organization.
The first came in 2009, which happened to be the same year Sterling agreed to paid $2.73 million to settle a federal lawsuit over his refusal to rent apartments to minorities, according to the Los Angeles Times.
In his letter of resignation, Jenkins stated, "Please be advised that the legacy, history and reputation of the NAACP is more important to me than the presidency.  In order to separate the Los Angeles NAACP and the NAACP from the negative exposure I have caused the NAACP, I respectfully resign my position as President of the Los Angeles NAACP."
NAACP Interim President and CEO Lorraine Miller accepted Jenkins resignation, according to a news release from the organization.
The national office of the NAACP stated it was in the process of developing guidelines for local chapters to follow in the future when selecting candidates for awards, according to the release.
In a statement, Los Angeles Urban Policy Roundtable President Earl Ofari Hutchinson called Jenkins' resignation an opportunity to move forward.
"The new beginning for and revamp of the L.A. NAACP  must include the selection of a new board, and a new president that's fully committed to restoring the integrity of and public confidence in the organization," Hutchinson said in statement.
"It also means retransforming the L.A. NAACP into a true fighting organization in the battle for civil rights, equal justice and opportunity. And finally it means insuring that the L.A. NAACP will be fully transparent and accountable to its members and community and not to dubious corporate donors," the statement read.