This is an archived article and the information in the article may be outdated. Please look at the time stamp on the story to see when it was last updated.
Los Angeles is a city in decline, strangled by traffic, weighed down by poverty and suffering from "a crisis of leadership and direction," according to a report released Wednesday by a 13-member citizen panel.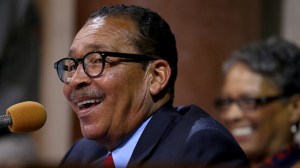 The Los Angeles 2020 Commission, convened by City Council President Herb Wesson to examine the city's economic woes, offered a harsh assessment of civic decision-making, warning that Los Angeles is heading to a future where local government can no longer afford to provide public services.
The panel, chaired by former U.S. Commerce Secretary Mickey Kantor, said Los Angeles lacks a coherent approach to economic development and trails other major cities in job growth. City government spending is growing faster than revenue and the pension benefits of city employees are at risk, said the report, titled "A Time For Truth."
"The city where the future once came to happen has been living in the past and leaving tomorrow to sort itself out," the report said.
Click here to read the full story on LATimes.com.