This is an archived article and the information in the article may be outdated. Please look at the time stamp on the story to see when it was last updated.
The arsonist behind 47 fires from the San Fernando Valley to West Hollywood was found to be sane by a Los Angeles jury Monday, according to the Los Angeles County District Attorney's Office.
Harry Burkhart, a 30-year-old German national, was found guilty in September 2016 of igniting dozens of fires across the county, prosecutors said. He now faces a maximum sentence of 88 years and eight months in state prison for the arson convictions.
When the trial first went through a sanity phase in September 2016, the jury deadlocked in determining whether Burkhart was sane or not, the Los Angeles Times reported. The judge then declared a mistrial.
With Burkhart convicted and now found to be sane, he will face sentencing on March 23.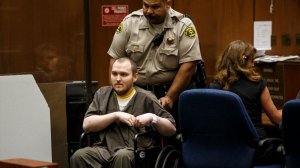 Burkhart set the fires over a span of several days during the holiday season between 2011 and 2012, beginning on Dec. 30, prosecutors said. He sparked the fires in the city of West Hollywood, San Fernando Valley and Hollywood areas by lighting them under vehicles or near homes using "various incendiary devices," prosecutors said in a news release, without specifying what those objects were.
As the flames spread close to houses and apartment buildings, they left at least $3 million in damage, the Los Angeles Times reported.
He lit the fires in retaliation for his mother being arrested in the United States in connection with alleged crimes in Germany, prosecutors said.
When he committed the arsons in L.A., Burkhart was already suspected of burning down his family home in Germany, the Times reported, and he and his mother fled their native country as she was suspected of fraud.
The charges he was convicted of include 25 counts of arson of property, 18 counts of arson of an inhabited dwelling and two counts each of possession of an incendiary device, attempted arson and arson of a structure, according to prosecutors.