This is an archived article and the information in the article may be outdated. Please look at the time stamp on the story to see when it was last updated.
A 20-year-old Los Angeles man was arrested after allegedly sending a tweet in which he threatened to "shoot someone walking," police said Thursday.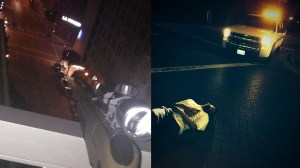 Dakkari McAnuff was taken into custody about 1:30 p.m. Wednesday on suspicion of criminal threats, according to a news release from the Los Angeles Police Department.
"100 RTs and I'll shoot someone walking," McAnuff allegedly posted on Twitter in a message that police learned about Wednesday morning.
"During the investigation officers discovered multiple pictures displaying an unknown type of rifle pointing in the direction of various Los Angles city streets with the captions '100 RTs (Re-Tweets) and I'll shoot someone walking,'" the LAPD news release read.
The implication was that if 100 other Twitter users reposted — or RT'd — the message, the sender would shoot someone in public.
Police determined the identity of the Twitter user who posted the tweet and the photos, and McAnuff was taken into custody at his home in the 700 block of Ninth Street in downtown Los Angeles. Officers with the Central Area division were also able to "determine the location the pictures were taken," the release stated.
The account that had apparently sent the original tweet — @stillDMC — was suspended, but a version of the tweets cached by Google showed their original language. The tweets were sent early Tuesday morning, according to the Google cache.
A mirror website that archives photos posted to Twitter showed an image tweeted by @stillDMC of a rifle-like weapon being pointed out of a high-rise toward a city street, along with the "100 RTs and I'll shoot someone walking" language. LAPD later confirmed that "threatening photo" was the one that prompted the arrest.
A photo posted by @stillDMC shortly after the initial tweet showed a bloodied man laying in the street in front a truck with flashing lights; the text read: "Man Down. Mission Accomplished."

A Tumblr page under the same full name — Dakkari Dijon McAnuff — and birth date as a man in custody linked to the now-suspended Twitter account, @StillDMC, or "FreeSoulSociety." A man was seen posing with a large gun on the background image of the Tumblr page.
An air rifle was recovered from the home when McAnuff was arrested, police said. He was being held on $50,000 bail.
Anyone with information was asked to contact LAPD Central Division Detectives at 213-972-1203. During nonbusiness hours or on weekends, calls should be directed to 877-527-3247.
Tipsters may also contact Crime Stoppers by texting to phone number 274637 with a cell phone, beginning the message with "LAPD," or by going to LAPDOnline.org and clicking on "web tips."
KTLA's Olsen Ebright contributed to this article.