This is an archived article and the information in the article may be outdated. Please look at the time stamp on the story to see when it was last updated.
Students across Southern California left their classrooms Wednesday morning as part of a nationwide walkout in support of stricter gun control laws in the U.S.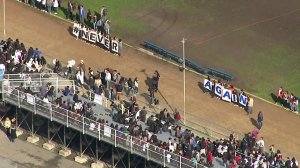 The demonstrations began at 10 a.m. in each time zone for schools across the country and were expected to last for 17 minutes in honor of the 17 killed exactly one month ago during a mass shooting at Marjory Stoneman Douglas High School in Florida.
In anticipation of thousands of students walking out in the Los Angeles area, police issued a statement Wednesday morning asking students to remain safe during their demonstration.
"The Department understands the need for students to participate in peaceful dialogue within the parameters of school administrators, however the safety of our young adults relies on their willingness to remain on campus under the protection of the Los Angeles Unified School Police Department,' the statement read.
Extra patrols would be provided around public and independent schools Wednesday, the Police Department stated.
But in Pomona, students at Pomona High School  and Garey Senior High defied local authorities by marching off campus to City Hall. The students said they planned to walk back to their campuses after a demonstration there.
https://twitter.com/_highondaniel/status/973991800837828608
At Eagle Rock Jr./Sr. High School, officials are planning to have students walk to the football field and hold hands in a circle around 17 empty desks.
Meanwhile, Granada Hills Charter High School had tents set up where students could learn about their local representatives in Congress and how to get in touch with legislators. On the campus' field, hundreds of students together lied on the ground in the shape of the word "enough" and a gong was banged 17 times in honor of the 17 people killed in the Valentine's Day shooting at Marjory Stoneman Douglas High School in Parkland, Florida.
Nishat Salabil, one of the students lying on the field in protest, said she was joining the walkout "in solidarity with the 17 lives taken because of our government not being able to enforce any gun reforms."
At Cheremoya Avenue Elementary School in Hollywood Hills, administrators had students stand in a circle holding a paper chain with messages of peace and community-building. The activity was meant to be a more sensitive approach for younger students, according to the school's principal.
"(It was) from a different perspective," Principal Steve Salva said. "It was more positive — about getting along and being a community versus focusing on the violence."
Parents were asked to have students arrive late at Citizens of the World Charter School-Hollywood. Officials there determined there would be less disruption by having students arrive for the event at 10 a.m. and then go to class afterward, a parent helping to coordinate the event told KTLA.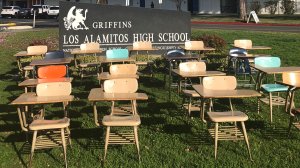 At Los Alamitos High School, 17 desks were placed outside near one of the school's signs Wednesday in honor of those killed in the February shooting. Students there planned to demonstrate before school in addition to the 10 a.m. national protest.
Similar protests were coordinated across Los Angeles and the country in hopes of prompting Congress to take action on gun control.
"I feel like a change needs to happen," a student at Eagle Rock Jr./Sr. High School said.