This is an archived article and the information in the article may be outdated. Please look at the time stamp on the story to see when it was last updated.
The controversial program that pays veteran Los Angeles police officers and firefighters nearly double for the last five years of their careers received a flood of new enrollees in February, records show.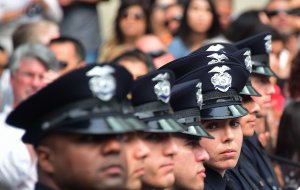 The rush to join the Deferred Retirement Option Plan, or DROP program, coincided with a Times investigation in February that found the program, which was created in 2002 to keep veteran officers and firefighters on the job, allows participants to file workers' compensation claims and then take extended injury leaves at nearly twice their usual pay.
Almost half of the participants who entered DROP from July 2008 to July 2017 subsequently took such leaves, The Times found. Their average absence was 10 months, while hundreds stayed out more than a year, typically with bad backs, sore knees and other ailments that afflict aging bodies regardless of profession.
None of the new DROP enrollees contacted by the newspaper responded to requests for comment on why they chose to sign up in February, though the surge in participants came amid questions about whether the program might be altered or eliminated.
Read the full story on LATimes.com.