This is an archived article and the information in the article may be outdated. Please look at the time stamp on the story to see when it was last updated.
A judge has ruled that attorneys can name a Los Angeles politician accused of sexually assaulting a 16-year-old girl in a recent lawsuit.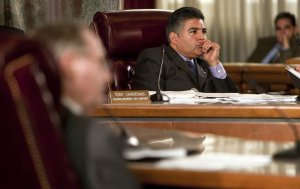 The decision by Los Angeles County Superior Court Judge David Sotelo also allows attorneys to serve the suit against the politician, who has been identified in court papers only as John Doe.
U.S. Rep Tony Cárdenas (D-Los Angeles) identified himself as the target of the lawsuit earlier this month. His attorney called the allegations "100%, categorically untrue."
The lawsuit, filed last month, alleges that in January 2007, an elected official gave the teenage girl a cup of water with a "peculiar taste" while they were golfing at a Los Angeles country club, then later sexually assaulted her in a car after she had collapsed.
Read the full story on LATimes.com.