This is an archived article and the information in the article may be outdated. Please look at the time stamp on the story to see when it was last updated.
California is on the brink of legalizing the sale of recreational pot, with the first round of state licenses for marijuana businesses kicking into effect in January.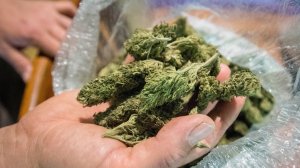 But Los Angeles pot shops won't be able to immediately start selling marijuana for recreational use on New Year's Day, city officials cautioned Friday.
"We are starting a process. This is something that is not going to happen overnight," said Cat Packer, who heads L.A.'s Department of Cannabis Regulation.
To sell marijuana to adult customers — not just patients — marijuana businesses will need both local approval and a state license. Los Angeles will not start taking applications until Jan. 3, beginning with existing medical marijuana dispensaries that have been operating in line with previous city rules.
Read the full story on LATimes.com.