This is an archived article and the information in the article may be outdated. Please look at the time stamp on the story to see when it was last updated.
Los Angeles lawmakers are laying the groundwork for what is widely expected to be one of the hottest markets for marijuana in the country, one that could bring more than $50 million in taxes to city coffers next year.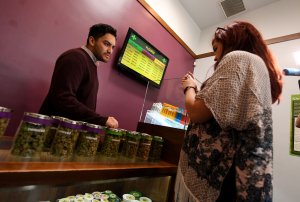 The city is drafting rules to allow greenhouses that grow cannabis, industrial facilities that process it, and new shops that sell it for recreational use, not just medical need.
But anyone expecting L.A. to become the next Amsterdam may be disappointed: It has held back, so far, on welcoming cafes or lounges where customers could smoke or consume cannabis.
That has troubled some marijuana advocates and attorneys, who warn that even after California legalizes the sale of recreational pot, many tourists and renters could be left without a safe, legal place to use it in Los Angeles.
Read the full story on LATimes.com.