This is an archived article and the information in the article may be outdated. Please look at the time stamp on the story to see when it was last updated.
LOS ANGELES (KTLA) — Fishermen cast their lines in shallow waters while kayakers treaded into deeper territory on what turned out to be a sunny Memorial Day in Los Angeles.
But this scene didn't take place at one of the L.A.'s famed beaches. This was the opening of the Los Angeles River recreational zone.
The waterway was made a public recreation destination once again after a ceremonial ribbon cutting on Monday morning.
The Los Angeles River was channelized in the 1930's and had been closed to the public for eight decades.
People can now access and enjoy a 2.5-mile stretch of the river near downtown Los Angeles.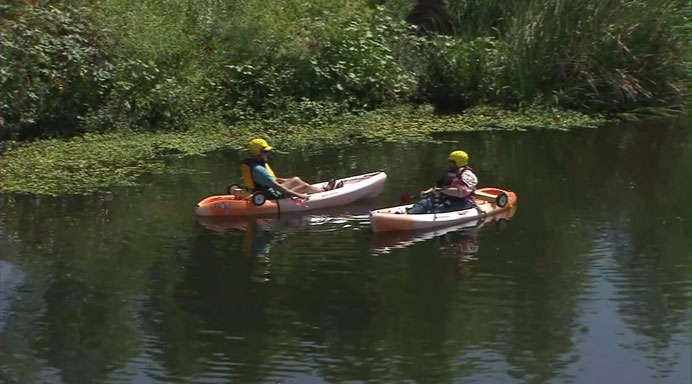 No reservations or permits are required for participants to boat, kayak, walk, or fish in the zone, but swimming is off limits, according to a spokesperson for the Mountains Recreation and Conservation Authority, which manages the river.
The recreation zone is open from Memorial Day to Labor Day, from sunrise to sunset, seven days a week.
Check back for updates on this developing story.