This is an archived article and the information in the article may be outdated. Please look at the time stamp on the story to see when it was last updated.
As a 16-year-old in high school and a student of history, Axel Ortega faces a tough choice on Wednesday morning: Does he walk out of class at Garfield to take a stand or stay put? And if he walks out, does he leave his East Los Angeles campus?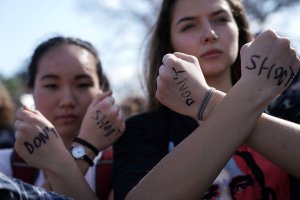 Axel's principal and other administrators also have been pondering what choices Axel and other students will make and how to respond.
Wednesday is the one-month anniversary of the mass shooting at Marjory Stoneman Douglas High School in Parkland, Fla. Student activists across America have declared it a national day of action to raise awareness about the effects of gun violence and push for lawmakers to take action to reduce it. Many different activities have been planned, and thousands of students from coast to coast are expected to walk out of classes for 17 minutes, in honor of the 17 killed in Parkland.
L.A. Unified officials find themselves in an ironic place. For about a month they've celebrated the 50th anniversary of Eastside walkouts in which students, mostly Mexican descent, defied teachers, administrators and police. Those walkouts changed things for the better, they've said.
Read the full story on LATimes.com.