This is an archived article and the information in the article may be outdated. Please look at the time stamp on the story to see when it was last updated.
Los Angeles schools Supt. John Deasy has told Board of Education members that he plans to resign in February, according to high-level district officials, including some who asked not to be named.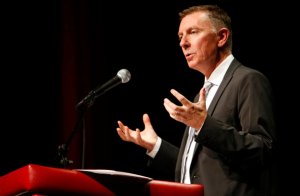 The reaction from the office of board President Richard Vladovic left little doubt. "We are shocked," said Mike Trujillo, a spokesman. "Dr. Vladovic is shocked, saddened and surprised."
Deasy, 52, was not immediately available for comment, but his departure would end the relatively brief tenure of a leader who made his mark with aggressive, sometimes controversial policies in L.A. Unified, the nation's second-largest school system.
His major initiatives included revamping teacher evaluations to include the use of students' standardized-test scores. He also altered the seniority system to limit the effect of job cuts at schools with large numbers of less-experienced instructors, who are generally the first to be laid off. And the school system recently embarked on a $1-billion effort to provide iPads to every student and teacher.
Click here to read the full story on LATimes.com.