This is an archived article and the information in the article may be outdated. Please look at the time stamp on the story to see when it was last updated.
Six inmates were hospitalized Monday after a Los Angeles County Sheriff's Department transport bus was involved in multi-vehicle crash in North Hollywood.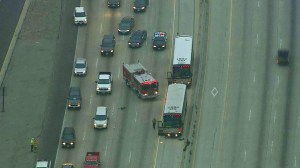 The crash occurred at about 6 a.m. on the southbound side of the 170 Freeway at Magnolia Boulevard and resulted in a Sig Alert for three lanes and an offramp that were left blocked by the vehicles, according to the California Highway Patrols traffic incident page.
Aerial video from Sky5 showed three damaged vehicles at three different locations following the crash.
Two sheriff's department transport buses were stopped in the carpool lane, but it was unclear if both or just one of the buses was involved in the crash.
Six inmates were taken to the hospital, Jennifer Cassidy of the CHP said.
The severity of their injures was unclear.
A pickup truck with damage to the rear end was seen blocking the Magnolia Boulevard offramp after it apparently went down an embankment, video showed.
And further south on the freeway, a car was stopped in lanes with a fire truck positioned behind it.
It was unclear if anyone was injured in the truck or car, or if any other vehicles were involved in the crash.
All lanes were reopened as of 7:20 a.m., according to the CHP.
KTLA's Justin Burton contributed to this report.