This is an archived article and the information in the article may be outdated. Please look at the time stamp on the story to see when it was last updated.
A Los Angeles County sheriff's deputy was accidentally shot in the leg by another deputy while the two were on a camping trip in Kern County over the weekend, the Sheriff's Department said.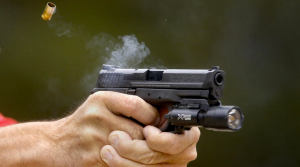 The incident happened Sunday morning while the two off-duty deputies from the Los Angeles County Sheriff's Department's Palmdale Station were camping in a remote area of Kern County, the Sheriff's Department stated in a news release.
One of the deputies unintentionally fired his non-department issued gun and struck the other deputy in the leg, according to the Sheriff's Department.
The injured deputy was taken to a local hospital for treatment. The injuries were not considered to be life threatening, according to the news release.
The identities of the deputies were not released.
The Kern County Sheriff's Department was investigating the circumstances surrounding the shooting.