This is an archived article and the information in the article may be outdated. Please look at the time stamp on the story to see when it was last updated.
Hundreds of students on Monday morning walked out of several  LAUSD schools as part of a planned demonstration to protest the results of the recent election.
At Garfield High School in East Los Angeles, some students held signs with messages like "Rise Up" and "Together We Stand," while others carried American and Mexican flags as they walked off campus and peacefully marched down local streets shortly after 8:30 a.m., aerial footage from Sky5 showed.
One male student who participated told KTLA the protest wasn't just about Trump.
"We're doing this in order to unite our students and the entire Eastside," he said. "You know, there's a lot of pressing issues that have kind of been affecting us this entire time. It's not about just Trump, but it's also just making sure that our students are secure and are able to stay in this country, and are able to study here."
Some students said they were not going to take part in the demonstration, choosing instead to remain in school for the day.
"Some people want to walk out, and I mean, that's their decision. But … I don't want to walk out, just, I want to stay in school, do my work and I have sports to do," another male student told KTLA.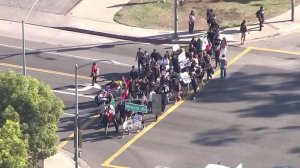 The students who chose to participate marched to Mariachi Plaza in Boyle Heights, where an anti-Trump demonstration involving multiple area schools was held in the morning hours, the Los Angeles Times reported.
At the event, the young protesters called for unity, according to the newspaper.
They then headed to L.A. City Hall, where the students stood side by side and chanted "Si se puede," video from the scene showed.
"We're out here doing something good," a female student said at the steps of City Hall. "Maybe we don't have a chance to vote, but we have a voice and we want it be heard."
LAPD issued an advisory about the protest on Sunday, saying in a statement that students from the Los Angeles Unified School District were planning to leave classes and "conduct an unauthorized walk-out" Monday to protest Donald Trump's win in the recent presidential election.
The Los Angeles Police Department had encouraged parents to tell their children to demonstrate in a "lawful, safe and peaceful manner."
"It is very difficult to ensure the safety of children when they leave the safe confines of their school campuses," the LAPD statement read.
Students who do not abide by the law while protesting could face any number of charges, including: obstruction of movement of vehicles and people; refusal to obey lawful order; refusal to disperse after an unlawful assembly declared; and vandalism, according to LAPD.
Those under 18 could also face a curfew violation.
Several LAUSD schools were expected to be involved in the demonstration, according to LAPD.
Although it has been nearly a week since the presidential election, many students remain concerned about the outcome and want their voices to be heard," Superintendent Michelle King said in a statement released by the district on Monday morning. "These are important conversations that need to take place. We want our students to know they are not alone."
The statement continued: "However, it is critical that students not allow their sentiments to derail their education or for their actions to place them in danger. Students should limit their activities to non-instructional time and — for their own safety and to follow the law — they should remain on campus."
While King urged them to stay in class, the United Teachers Los Angeles union encouraged their action, saying the organization "stands proudly" with the students.
"We believe students should join their communities in expressing themselves through peaceful protests, a statement from UTLA read. 
The walkout is the latest in a string of nationwide protests against Trump's election as president.
In Los Angeles, thousands of people have taken part in Anti-Trump demonstrations that began almost immediately after he was declared the winner of the 2016 presidential contest, including one on Saturday where at least 8,000 protesters marched peacefully from MacArthur Park to downtown Los Angeles.
Also last week, some 4,000 LAUSD students from 16 district schools also walked out of their classes to protest the election results.
"While police resources are already being taxed by several nights of protests, the LAPD will continue to protect a community member's constitutionally-protected right to peaceful expression," the LAPD statement said of Monday's planned action.