This is an archived article and the information in the article may be outdated. Please look at the time stamp on the story to see when it was last updated.
The union that represents 30,000 Los Angeles Unified School District support staff workers is planning a strike on May 15 over what its leaders have called unfair labor practices.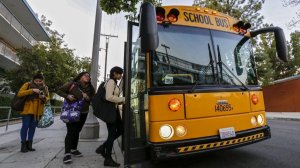 After more than a year of negotiations, the two sides have been unable to agree on a contract for unionized school bus drivers, custodians, special education assistants, teacher assistants, health aides and cafeteria workers. Union leaders said that while negotiations were underway, the district "made unilateral changes to working conditions" outside of collective bargaining.
That includes cutting the hours of more than 125 special education assistants by at least an hour a day without notifying the union, said Max Arias, executive director of Service Employees International Union Local 99, which represents about 30,000 school district employees. He also said LAUSD officials interfered with a strike authorization vote and are making it difficult for union leaders to join a safety committee.
"We are going to engage in a 24-hour strike May 15 to demand an end to these unfair practices and that the district respect our rights," Arias said. "Our members want it to stop."
Read the full story on LATimes.com.