This is an archived article and the information in the article may be outdated. Please look at the time stamp on the story to see when it was last updated.
The two schools are a two-minute drive apart in similarly low-income, largely immigrant neighborhoods. But to hear students tell it, the two places might as well be different planets.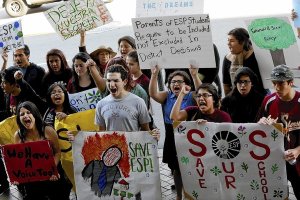 Lincoln High School in Lincoln Heights, located on the edge of Chinatown in a hilly area of Victorian dwellings and low-rent apartments, is home to 29,000 residents, mostly Latino and Asian.
The Academy of Environmental and Social Policy is a small campus affiliated with Roosevelt High School in Boyle Heights, an enclave of 91,000 mostly Mexican American residents, small businesses and a burgeoning arts scene.
The two neighborhoods, however, maintain fierce pride in independent identities — a sense that carries over to what police say is more than 25 gangs on both sides with long-standing rivalries, some of which go back decades.
Click here to read the full story on LATimes.com.