This is an archived article and the information in the article may be outdated. Please look at the time stamp on the story to see when it was last updated.
LOS ANGELES (KTLA) — Is your dog in need of a little rehab? A unique wellness center is offering massage, physical therapy, gym exercises and even swimming workouts for dogs.
It is called Two Hands Four Paws and they also offer weight management and special personalized care for those older pooches.
No one at the center is perfect.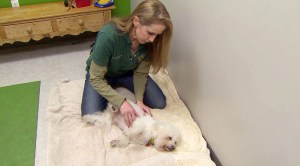 "We've got Loki who has bad elbows. Klhoe has a shoulder problem," said Leslie McMahon of Two Hands Four Paws.
The list goes on and on. For 15-year-old Alice, it is about aging gracefully.
"I stay because it's extended her life," said Alice's mom, Katherine Stuart.
Winnie is looking to simply lose some pounds.
"This dog seems to have a neurological problem," the veterinarian explained.
For most of the dogs, like Darshawn who suffers from a brain tumor, or Cuba who fell down a flight of stairs, coming to Two Hands Four Paws is serious business.
"One eight of the dogs that come in are in a wheelchair in their therapy," McMahon said.
The pool allows trainers to work with the canines to improve muscle strength. There is also massage available for the pooches at the state-of-art rehabilitation center. There is even an agility floor for drills.
"It's an under-water treadmill. They are walking against the resistance. It's good because she just had surgery. This is good for her because she's building muscle," said registered Vet Technician Erin Zimmer.
"Every person who works here loves animals and gives their heart and soul to get every single dog that comes through our door," McMahon said.
"And though they can't tell us, the pooches here have to know just like when any other family member is sick, someone not only has their back, but also their paws."
– Lu Parker Reporting
For More Information:
Two Hands Four Paws
2240 Federal Ave.
Los Angeles, CA  90064
Tel: 310.475.8555
www.twohandsfourpaws.com