This is an archived article and the information in the article may be outdated. Please look at the time stamp on the story to see when it was last updated.
A woman has filed suit against McDonald's Corp., saying she was burned by hot coffee that spilled on her at one of the fast-food chain's Los Angeles restaurants.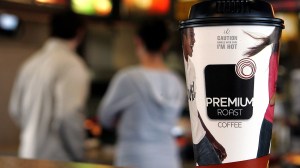 The lawsuit comes 20 years after a jury awarded $2.9 million to a woman who was badly burned after she spilled hot coffee into her lap at a McDonald's in Albuquerque. That verdict was widely criticized and became a rallying cry for advocates of legal reform.
A judge later reduced the verdict to $640,000 and the case settled out of court for an undisclosed amount.
The new case was filed by Paulette Carr, who said she was injured Jan. 12, 2012, after ordering the coffee at the drive-through window of a McDonald's on Sepulveda Boulevard in Van Nuys. She seeks unspecified monetary damages in the lawsuit, filed Tuesday in Los Angeles County Superior Court.
Click here to read the full L.A. Times story.