This is an archived article and the information in the article may be outdated. Please look at the time stamp on the story to see when it was last updated.
A 61-year-old Los Angeles Zoo employee was rescued by firefighters Thursday morning after falling at least 20 feet into a gorilla enclosure, LAFD officials said.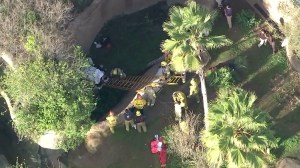 The grounds maintenance worker was tending to the ape habitat when he lost his footing on a planter and plummeted into a moat, according to a statement from the zoo.
At the time, the four gorillas that live in the enclosure were being held in their night quarters "behind the scenes," a zoo spokesman said, adding that the city-owned facility had not yet opened for the day.
In a news release, the Los Angeles Fire Department said the man was in fair condition after suffering a possible fractured femur at the zoo, located in Griffith Park.
"Animals secured and LAFD Urban Search and Rescue members assessing the situation and preparing necessary equipment to access patient," the agency tweeted at 8:40 a.m.
After the man was placed on a stretcher, Sky5 video showed firefighters using a rope system to hoist him up a ladder that had been lowered into a part of the enclosure.
He was conscious throughout the rescue operation, zoo officials said, and transferred to an awaiting ambulance.
The Fire Department's statement said the patient was "safely extricated" and was transported to a hospital.
The cause of the fall was the subject of an internal investigation, according to the zoo.
https://www.facebook.com/ktla5/posts/10153965588504614