This is an archived article and the information in the article may be outdated. Please look at the time stamp on the story to see when it was last updated.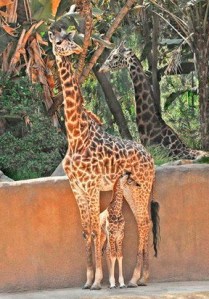 LOS ANGELES — This Sofie is no teething toy.
The Los Angeles Zoo and Botanical Gardens on Thursday announced the birth of a female giraffe named Sofie, a close riff on the wildly popular Sophie baby teething toy in the likeness of a giraffe.
The zoo's Sofie, however, is a bit larger, weighing in at 135 pounds and standing 6 feet tall.
She was named by the great granddaughter of zoo donor Robert McMillan, according to an announcement issued on Thursday.
Sofie, born on April 22, is the first calf for the zoo's Masai giraffe, Hafina.
Masai giraffes hail from East Africa, where they are under threat due to poaching for their meat, according to the zoo.
Sofie was scheduled to make her public debut to the media on Friday.
–Los Angeles Times