This is an archived article and the information in the article may be outdated. Please look at the time stamp on the story to see when it was last updated.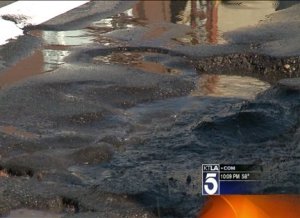 LOS ANGELES (KTLA) — Potholes seem to be everywhere in Los Angeles, but a new plan to fix them could put a hole in the pockets of homeowners.
Lawmakers are calling for a $3 billion bond measure paid in property taxes over 29 years. They want to get it on the ballot this May.
L.A. City Councilman Mitch Englander says Angelenos spend on average $750 per year on car repairs caused by bad city streets. He wants to fix the whole system.
Fixing the roads sounds like a great idea to most drivers, but what about raising taxes to do it?
Englander admits that a tax isn't really fair, but says that city leaders of the past have put Los Angeles in this mess.
"I'm so aggravated on how we got here. There's been so many mistakes made," Englander said.
"There's no question the revenue streams that come in that is dedicated specifically for streets has been depleted," he added.
According to Englander, $100 million per year from the city's general fund is not enough to fix the problem. But, he says, the bond measure would do the trick.
For every $100,000 in property value, taxpayers would pay an average of $35 more per year. Englander wants voters to decide if it's worth it.