This is an archived article and the information in the article may be outdated. Please look at the time stamp on the story to see when it was last updated.
Southern California residents felt more shaking Saturday as dozens of aftershocks continued to hit the area following a magnitude-5.1 earthquake, including a temblor with a magnitude of 4.1 that hit in Rowland Heights just after 2:30 p.m.
The biggest quake hit at approximately 9:09 p.m. Friday, according to the U.S. Geological Survey. Initially reported as a 5.3, it was downgraded to a 5.1, centered 1 mile east of La Habra at a depth of 4.6 miles.
The earthquake resulted in isolated power outages and damages that included ruptured water mains.
Dozens of aftershocks continued to rock the region for more than 12 hours.
At 2:32 p.m. Saturday, a magnitude-4.1 quake hit 1 mile southeast of Rowland Heights, just a few miles from the bigger La Habra quake, USGS reported. It was initially reported as a 4.5, but that was downgraded. The aftershock was at a depth of 5.9 miles.
"The lights went out and we couldn't see anything. Glasses started breaking everywhere," said Patty Del Valle, who was at a Rowland Heights house and ran for cover when the 4.1 quake struck. She showed a reporter where roof tiles had fallen to the ground, the patio cracked and a TV fell off a shelf.
Two shallow-depth temblors struck the same area at 10:51 p.m. and 11:17 p.m., measuring 3.3 and 3.2, respectively.
"The aftershock sequence may continue for several days to weeks, but the number of aftershocks and magnitude will decay as time goes by," stated a page devoted to the La Habra quake on the Southern California Seismic Network, which is run by Caltech and USGS.
Friday night's quake had triggered a rock slide on Carbon Canyon Road that caused a car to overturn, according to the Brea Police Department. No one was seriously injured, but the car remained overturned in the same spot Saturday morning, video from the scene showed.
The road also remained closed early Saturday, according to a tweet from Brea police.
Friday's quake lasted "20 to 30 seconds" and "shook rather violently," La Habra City Councilman James Gomez.
Jennifer Scott, a resident of Fullerton, said the earthquake got worse as it went on.
"I didn't think it was going to be as bad as this, I didn't think there was going to be so much damage," Scott said.
The sequence of quakes could be associated with the Puente Hills thrust, which caused the magnitude-5.9 Whittier Narrows earthquake in 1987, according to USGS. The Chino Hills earthquake in 2008, a 5.4, also occurred in the region.
An earthquake early warning system alerted seismologists four seconds before the event, according to USGS.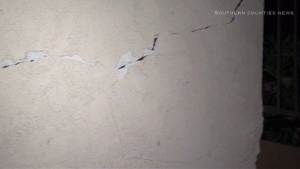 Nearly 30 aftershocks were reported in the hour following the quake, according to the Southern California Seismic Network.
Before the Rowland Heights-based 4.1 on Saturday afternoon, the largest aftershock from the earthquake was a magnitude-3.6 that struck around 9:30 p.m., according to USGS. Another larger one with a magnitude of 3.4 hit Saturday morning.
Caltech seismologist Dr. Kate Hutton said the number of incidents was expected for an earthquake of that magnitude.
"You might have the foreshock, you might not. In this case there was one. And there should be aftershocks after the earthquake. It's a continuation of strain release," she said.
The epicenter was not "on an obvious fault," Hutton added.
Seismologists said that there was also a 5 percent chance that it was a precursor to a bigger quake.
Friday's tremors occurred less than two weeks after a 4.4-magnitude earthquake struck in the Encino area on March 17.
Correction: An earlier version of this post incorrectly stated the location of the March 17 quake. The story has been updated.