This is an archived article and the information in the article may be outdated. Please look at the time stamp on the story to see when it was last updated.
In the first step toward a new goal of eliminating tailpipe emissions by 2030, the Metropolitan Transportation Authority agreed Thursday to spend more than $138 million to buy 95 electric buses that will run on two Los Angeles County busways.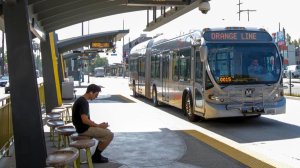 The purchases from New Flyer of America Inc. and BYD are among the largest of any U.S. transit agency, and will establish Metro as a proving ground for a new technology that is still relatively untested.
Environmental advocates cheered Metro's investment as a way to lead the nation in adopting a new technology that could help reduce transportation emissions and create local jobs.
When the electric buses begin running, they will represent less than 5% of Metro's fleet, but will at least double the number of electric buses in use in California.
Read the full story on LATimes.com.