This is an archived article and the information in the article may be outdated. Please look at the time stamp on the story to see when it was last updated.
The family of a 68-year-old woman who died in a hit-and-run crash that also injured her two grandchildren in La Mirada made an emotional plea for information in the ongoing search for the driver on Tuesday.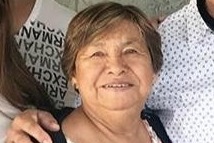 Maria "Carmen" Chavarria was walking her grandchildren just a few blocks away from Escalona Elementary School when a sedan struck them from behind the afternoon of Feb. 20, according to the Los Angeles County Sheriff's Department.
Chavarria was pronounced dead after being taken to a hospital in critical condition, the Sheriff's Department said. The children, a 7-year-old boy and 9-year-old girl, sustained minor injuries.
The male driver did not stop to help the three, authorities said.
"It's not fair that he can still wake up every single day, and live life like nothing happened. And we can't do that," a distraught Jeannette Chavarria, the victim's daughter,  said at a news conference Tuesday.
The section of the 14800 block of Escalona Road where the incident happened does not have a sidewalk, so the victims were walking in a gutter along the side of the street.
Jeannette Chavarria said her family has lived in the area for years and has always walked around.
"I don't know if it was a safety thing, but still, for this person to not stop and attend to my kids, my mom. You know, it's just horrible," she said.
A witness reported seeing the driver on his cellphone before the incident, leading detectives to believe it might have been an issue of distracted driving rather than speed, Capt. James Tatreau said at the news conference.
While no description of the driver is available, a camera recorded the vehicle and the victims just before the crash. Authorities described the car as possibly a four-door, dark gray Toyota Camry from model years 2015 to 2017.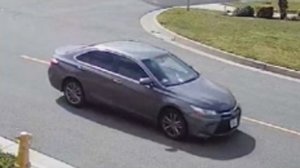 A $5,000 reward remains available for anyone with information that leads to an arrest and conviction.
"This hit-and-run left two children injured on the street alone with their grandmother, who was dying, while waiting for us to respond to this call," Tatreau said. "[Investigators] can't do this alone."
Tipsters can call the Norwalk Station at 562-863-8711. Those who wish to remain anonymous can contact Crime Stoppers by calling 800-222-8477, using the mobile app "P3 Tips" or visiting lacrimestoppers.org.
The victim's husband, Juan Chavarria, urged anyone with knowledge of what happened to call the authorities.
"As a wife, as a mother, she was everything to us," he said of his partner in Spanish. "If someone knows something, come forward so the police can do their job and find this person."
Escalona Elementary has set up a GoFundMe page to help Chavarria's family.
KTLA's Cindy Von Quednow contributed to this story.
Editor's note: Officials initially misstated the boy's age. This post has been updated.