This is an archived article and the information in the article may be outdated. Please look at the time stamp on the story to see when it was last updated.
A brush fire that triggered hundreds of evacuations in Glendale and Burbank as it tore across the Verdugo Mountains over the weekend was 80% contained Tuesday evening, Los Angeles fire officials said.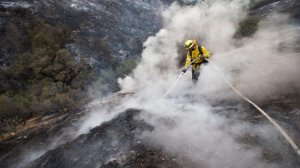 The La Tuna fire, which began Friday afternoon amid a sweltering heat wave, shut down miles of the 210 Freeway in the Sunland-Tujunga area for days as winds whipped the flames in all directions.
"We hit this hard, we hit it fast and we've done everything we can, and we're proud to say out of those nearly 1,400 homes, only five have been destroyed and that we've been really able to jump from 30% to 70% containment," Los Angeles Fire Department Capt. Erik Scott said early Tuesday. By 8 p.m., containment reached 80%.
The fire burned 7,194 acres, fire officials said. All lanes of the 210 Freeway were reopened Monday.
Read the full story on LATimes.com.