This is an archived article and the information in the article may be outdated. Please look at the time stamp on the story to see when it was last updated.
A wind-driven fire burning in the Verdugo Mountains has destroyed at least two homes after scorching about 5,800 acres, and has become the largest fire to burn in Los Angeles city history, Mayor Eric Garcetti said Saturday.
The so-called La Tuna Fire is only 10 percent contained and has prompted hundreds of evacuations in Burbank, Glendale and Los Angeles, and the 210 Freeway in Sunland-Tujunga remained closed.
While Burbank residents were permitted to return to their homes after 10 p.m. Saturday night, other evacuation orders in Glendale and Burbank remains in place.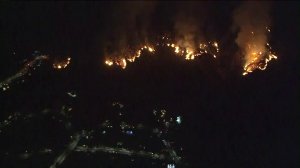 Mayor Garcetti declared a local emergency surrounding the incident Saturday evening and also requested Gov. Jerry Brown to declare an emergency at the state level so that additional resources could be allocated.
The blaze began about 1:30 p.m. Friday in a drainage along the north side of La Tuna Canyon Road, according to the Los Angeles Fire Department. The fire grew to 1,500 acres Friday.
One home that burned was at 7717 Verdugo Crestline Drive, while the other was at 7675 Verdugo Crestline Drive, fire officials announced Saturday afternoon.
The second structure was destroyed at 7675 Verdugo Crestline Drive, but firefighters believe it could have been a shed, according to Terrazas.
The three buildings were isolated from other structures, he added.
Terrazas noted that brush was not cleared from around any of these three structures. He urged residents to leave at least a 200-foot perimeter clear of brush around their homes.
Several aircraft, including super scoopers, were making water drops on several hot spots Saturday, video showed. Retardant drops were being conducted continuously throughout the day around the fire's perimeter, Terrazas said.
FOR DETAILS ON EVACUATION ORDERS AND FIRE'S MOVEMENT, PLEASE CLICK ON THE INTERACTIVE FIRE MAP BELOW: https://t.co/sLpKsA2WJj
Via CCEA

— City of Glendale, CA (@MyGlendale) September 3, 2017
The fire grew in intensity and acreage overnight.
During a Saturday news conference, Garcetti said it's been about 45 years since a fire burned in that particular area.
About 800 firefighters face triple-digit heat where flames are raging, as a heatwave continues to bake local valleys and mountains.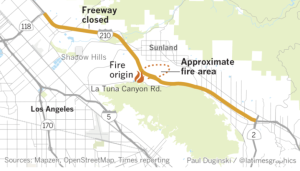 Temperatures could reach 110 to 115 degrees in the hottest areas, the Los Angeles Times reported, citing the National Weather Service.
LAFD Capt. Erik Scott said the fire is burning in a very "unique way" along steep, rugged terrain and is being driven by erratic winds.
"We had a few wind gusts that would push it in different directions, but we don't have a steady wind pushing it in a singular direction," Scott told KTLA.
The blaze is moving "outward" and in multiple directions; after starting in the Sunland-Tujunga area, it crested over the hills to Burbank and could make its way to Glendale, Scott said.
Chief Terrazas later called the blaze "difficult" and "dynamic," noting that "extremely erratic weather and wind" were its main driving forces.
However, no firefighter or civilian injuries had been reported as of Saturday afternoon, which Terrazas called a "blessing."
Fire officials stressed the importance of heeding evacuation orders and being ready to go with essentials when asked to leave.
About 180 homes were evacuated in Los Angeles and 250 homes were also under evacuation orders in Glendale, officials said.
Related: full list of evacuations, shelters and road closures
On Saturday, police tweeted that firefighters are wearing respiratory masks and are asking residents affected by the blaze to stay indoors and avoid outside activities because of heavy smoke in the area.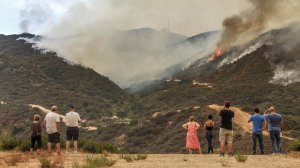 "The air quality outside is bad. With temperatures expected to reach the triple digits once again today, we are asking people to please stay indoors and limit your recreational activities," Burbank Police Sgt. Derek Green wrote in an email. "Keep pets indoors and take care of each other."
Evacuation centers are set up at McCambridge Park, 1515 N Glenoaks Blvd. in Burbank, and the Sunland Recreation Center, 8651 Foothill Blvd.
Many residents have stayed in the neighborhood, away from flames, after being asked to leave their homes.
Los Angeles Councilmember Monica Rodriguez said residents should avoid being outside because of poor air quality conditions, and said cooling centers, including the Lake View Terrace Recreation Center, 11075 Foothill Blvd., are available.
Unhealthy air quality caused by the fire is likely to affect areas of west and east San Gabriel Valley, the San Gabriel Mountains, the San Fernando Valley and Glendale, the South Coast Air Quality Management District reported Saturday.
Officials urge residents of areas where you can smell or see smoke to avoid outdoor exposure and limit physical exertion.
CalFire crews headed to the Craig Canyon area Saturday to clear brush and protect structures. Several other fire agencies are helping with the blaze, and the Los Angeles Police Department is assisting with evacuations.
The 210 Freeway remains closed from Foothill Boulevard to Kagel Canyon Street, "for an undetermined time," the fire department tweeted.
#LaTunaFire aerial pics by @LAFDChief on #Sunland #Tujunga side or in corridor Pls check new evac orders here https://t.co/KXVKsjfL15 pic.twitter.com/OQMh8P4lHI

— LAFD Talk (@LAFDtalk) September 2, 2017
correction * a Inmate crew ready to move in #latunafire pic.twitter.com/bUjTileqbN

— Matt Hartman (@ShorealoneFilms) September 2, 2017
Crews getting ready to battle fire @KTLA #LaTunaFire pic.twitter.com/nIGIlEDix4

— Chris Gierowski (@tepall14) September 2, 2017
Thank you to all the @LAFD personnel and our sister agencies who are battling this fire in the heat. Aerial view attached. EG pic.twitter.com/y9M7x1eGiK

— Eric Garcetti (@ericgarcetti) September 2, 2017
LaTunaFire; Lots of chard aftermath, however still active flame this morning near La Tuna Canyon Bl. #LAFD pic.twitter.com/3BqS6IT4Gl

— 🅔🅡🅘🅚 🅢🅒🅞🅣🅣 (@PIOErikScott) September 2, 2017
Flames licked up the hillside in #Burbank where nearby homes were evacuated by police and fire. @KTLA @KTLAMorningNews #BurbankFire #KTLA pic.twitter.com/DD90oVKkzx

— Chris Gierowski (@tepall14) September 2, 2017
@BurbankPD daywatch ofcrs r relieving graveyard now. We evacuated nearly 200 homes during some intense fire. We'll be back in a few hrs! pic.twitter.com/wAGa30xjiv

— Burbank Police (@BurbankPD) September 2, 2017