This is an archived article and the information in the article may be outdated. Please look at the time stamp on the story to see when it was last updated.
Thanks to a steep decline in gas prices over the past month, motorists traveling this holiday weekend will be paying the lowest prices at the pump in five years, according to the Automobile Club of Southern California.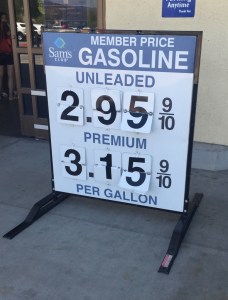 In the past week, prices have dropped by double digits in most areas of the state, a Thursday news release from AAA reported.
The average cost of a gallon of self-serve regular gasoline in the Los Angeles area on Saturday was $3.49, which is 13 cents cheaper than last week and 52 cents lower than last month, the latest figures on AAA's Fuel Gauge Report website showed. Prices have also dropped more than 30 cents on average from the same time period last year.
In Orange County, motorists were paying $3.42 for a gallon of regular gasoline, a sharp decline of nearly 50 cents over the past month. A year ago, the average cost of a gallon of gasoline in the area was approximately $3.80.
Gas prices in the Inland Empire averaged $3.40 as of Saturday, a drop of 50 cents from the past month and 38 cents since last year, AAA's website reported.
Overall, the cost of gasoline was down across California, AAA reported.
"While the national average gas price is $1 or more below most Southern California areas, local prices are dropping at a more rapid rate than in most other states," spokesman Jeffrey Spring stated in a news release from the Auto Club.
"Southland residents visiting the No. 2 Labor Day travel destination, Las Vegas, will pay about 50 cents less a gallon to fill up there, and those visiting Arizona will pay about $1 a gallon less than prices in Los Angeles," Spring added.
The recent decline at the pump in the state came after a spike in gasoline prices in July that was caused when gas imports to California "dried up," according to a Sept. 1 blog post from GasBuddy.
The mid-July price increase followed a U.S. Energy Information Administration report that gasoline imports to the region had declined to zero, the first time that had occurred since March, GasBuddy reported at the time.
But by the beginning of September, California was "just now starting to get back to the price of a gallon of gas before the crisis occurred," the blog post stated.