This is an archived article and the information in the article may be outdated. Please look at the time stamp on the story to see when it was last updated.
Los Angeles Fire Chief Brian Cummings is stepping down effective Nov. 1, it was announced Thursday.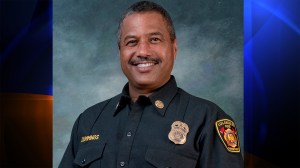 "Serving those who, live, work and play in Los Angeles is an extremely
rewarding experience. It is a profound honor to work with and lead you
incredible men and women of the LAFD," Cummings said in a statement.
Document: Read full statement (PDF)
"I thank Chief Cummings for his service to Los Angeles. My agenda for the Fire Department is focused on reducing response times, improving technology, to make sure we're prepared for every emergency," Mayor Eric Garcetti said in a statement.
Garcetti told the Los Angeles Times during his campaign for mayor that he did not have confidence in Cummings' administration.
Cummings had come under criticism after fire officials admitted in 2012 to putting out data that made department response times appear faster than they actually were, The Times reported.
James Featherstone will become acting chief until a permanent replacement is named, Garcetti's office said.
Featherstone, a former LAFD captain, currently heads the city's Emergency Management Department, where he will return after a permanent fire chief is found, Garcetti's office said.
The firefighters' union immediately welcomed the leadership change via Twitter.
UFLAC welcomes leadership change in the #LAFD announced by Mayor Eric Garcetti and we support the selection of… http://t.co/xI5jjqhEw4

— LA City Local 112 (@UFLAC) October 10, 2013
"The Fire Department is at a crossroads and is in desperate need of strong leadership.  Funding has been decimated and hundreds of firefighters and paramedics have left due to attrition and retirement without a single firefighter being hired over the past 5 years," the union wrote on its website.
"As a result, response times in Los Angeles have risen, the credibility of the department has been called into question, staff morale is low, and both public and firefighter safety has been put at greater risk," the statement continued.
Cummings is a 32-year veteran of the LAFD, according to the department's website, and is the son of an L.A. firefighter.
He joined the department in 1980, and received a series of promotions over the years. In 2010, he was promoted to the position of assistant fire chief.
On September  7, 2011, former Mayor Antonio Villaraigosa appointed him chief.
Cummings will remain with the department until February, when he retires.