This is an archived article and the information in the article may be outdated. Please look at the time stamp on the story to see when it was last updated.
Update, Monday morning:
Jesse Hernandez has been found alive Monday morning after falling into an underground system of sewage pipes. Read an updated version of the story here.
Original post, Sunday evening:
Firefighters were working to navigate an underground system of sewage pipes that feeds into the Los Angeles River in their search for a 13-year-old boy who fell into the waterways while playing in Griffith Park on Easter Sunday, officials said.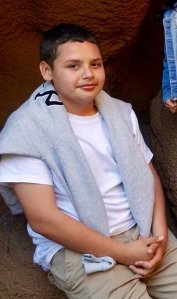 Crews first responded to 5254 W. Zoo Drive, down the road from the Travel Town Museum, around 4:30 p.m. and were expected to remain on scene through the night, the Los Angeles Fire Department said.
The boy, identified as Jesse Hernandez, was playing with four to six other boys in a maintenance shed near Griffith Park when he fell into the drainage system through a 4-foot-wide pipe, according to Los Angeles Police Sgt. Bruno La Hoz.
"One was jumping on top of a wooden plank, perhaps not knowing that it led into a drainage pipe," he told KTLA. "The plank gave, the wood broke, and the kid fell right through it."
Multiple bystanders said they saw the teen plunge 25 feet from the roof of the concrete structure into what firefighters described as a drainage ditch, LAFD Capt. Erik Scott said.
The sewage was moving at about 15 mph, Scott added. The drainage flows into the L.A. River through an intricate system of pipes, officials said, and rescuers were tracking all outlets.
More than 20 members of the Hernandez family had been picnicking in Griffith Park, an annual Easter tradition, when Jesse went missing, firefighters said.
Over 100 LAFD firefighters and park rangers were scouring the park area Sunday night, along with officials from LAPD, California Highway Patrol, and the city's recreation and parks and water and power departments. Multiple search helicopters were overhead and swift water rescue teams were on the ground.
L.A. Sanitation was also on scene to help rescue teams navigate the maze-like layout of the water system and "determine any void spaces as potential catch points," LAFD said.
Urban search and rescue teams that specialize in confined spaces were crawling into the underground drainage network, attempting to access spaces more than 1.5 miles from where Hernandez went missing.
Officials had also tethered cameras to floatation devices that are similar to a boogie board, floating them out 300 feet ahead of rescue personnel, in attempt to spot the 13-year-old.
LAFD's Scott said authorities anticipated a "prolonged" response and would remain on scene overnight.
Search & Rescue teams are entering an underground drainage access area to try and locate a 13y/o boy who fell into a large sewage pipe earlier today. @LAFD says crews specialize in searching confined spaces. It's been approx 3hrs and still no sign of the child. Details @KTLA pic.twitter.com/mQGmDveFty

— John Fenoglio (@JohnFenoglio) April 2, 2018
.@LAFD says search continues for 13y/o boy who fell into a large sewage pipe which drains into #LARiver this afternoon. Near #GriffithPark. Official described underground pipe system as "a maze of pipes," making it difficult to know where child may be stuck. Details @KTLA pic.twitter.com/LEHZSOf5F3

— John Fenoglio (@JohnFenoglio) April 2, 2018
https://twitter.com/LAFD/status/980644447477116929