This is an archived article and the information in the article may be outdated. Please look at the time stamp on the story to see when it was last updated.
A Laguna Beach police officer is among three people who were arrested in connection with elder abuse, Fullerton Police Department officials announced Friday.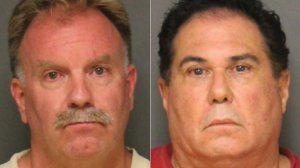 The fraud investigation involving several agencies began in June 2017.
The officer, Rock Wagner, 58, was arrested in Lake Forest. He has been with the Laguna Beach police for nine years, according to the department.
His sister, Wendy Wagner, 55, and her boyfriend, Norman McBride, 58, were arrested in Huntington Beach. All three have been accused of elder abuse and fraud.
They were booked at the Fullerton jail, but were released on bail, police said.
Police did not elaborate on the investigation, any alleged victims or the alleged crime.
Laguna Beach police issued a statement to say Wagner had been placed on administrative leave, pending the investigation's outcome, but stressed that none of the crimes occurred in Laguna Beach or while Wagner was on duty.
Anyone with additional information can call 714-738-5336 or 714-738-6765.