This is an archived article and the information in the article may be outdated. Please look at the time stamp on the story to see when it was last updated.
Laguna Beach detectives arrested a 28-year-old man Wednesday after he allegedly trespassed at a residence and hotel in Laguna and Newport Beach to shoot videos of himself performing stunts, officials said.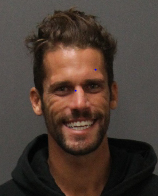 Laguna Niguel resident Anthony Booth Armer posted several videos of himself jumping from rooftops and cliffs to YouTube as "8Booth," according to a statement from the Laguna Beach Police Department.
He was charged Tuesday with two misdemeanor counts of unauthorized entry of a dwelling and one misdemeanor count of trespassing with intent to interfere with business, the Orange County District Attorney Office said.
The YouTube account's profile describes the user as an "adrenaline junkie" who seeks to "jump record-breaking jumps" and "skate at record-breaking speeds."
The most recent video was published Oct. 20.
In the most recent incident, Armer is accused of entering the Newport Towers condo building on West Coast Highway on Oct. 6, running up several flights of stairs and jumping from the roof to the harbor below.
Armer is also accused of climbing into a restricted area of the Surf and Sand Hotel in Laguna Beach on Sept. 29 and jumping into the guest pool. A video depicting such a jump, posted by 8 Booth Oct. 14, has more than 6 million views.
And a video posted to YouTube Aug. 30 showing a plunge into the ocean near Table Rock Beach was created July 21 when Armer trespassed at a gated residence in Laguna Beach, police said.
Police said they obtained a warrant for Armer's arrest after the videos garnered attention online.
Armer's arraignment date has not been determined, authorities said.