This is an archived article and the information in the article may be outdated. Please look at the time stamp on the story to see when it was last updated.
The family of a missing man with Alzheimer's and dementia who walked out of his Laguna Woods home pleaded for the public's help finding him Tuesday, after he had been missing for more than 60 hours.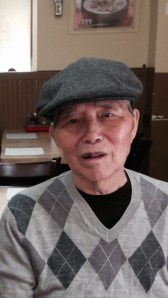 Sa K. Lee, 82, was last seen at the home he shares with his wife in the gated retirement community about 10 p.m. Saturday. His disappearance prompted an Orange County Sheriff's Department search operation that involved a helicopter, several bloodhound teams and more than 40 reserve deputies.
"We searched for almost 24 hours straight," sheriff's Lt. Jeff Hallock said at a news conference Tuesday. "We don't have any information or any strong leads to follow up on, so we're asking for assistance."
Lee's son, daughter and wife asked for help finding him.
"It's very terrifying. All of us are very worried," said son Johnny Lee. "We have all the church members involved. There's a lot of people trying to find him right now."
Sa Lee speaks Korean and minimal English and is "very shy," said his son, who aids the missing man's wife Sun Oh Lee as a caretaker at the family home.
A little over a year ago, Sa Lee left the home and was found at a gated entrance to the community, Johnny Lee said.
This time, his wife was taking a shower when he unlocked the door and vanished, Johnny Lee said.
"If there's anybody out there that saw him, please help," the missing man's son said.
Sa Lee uses a walker but was believed to have left the home on foot.
He used to enjoy going to a nearby In-n-Out, but never went to the fast-food eatery alone, Johnny Lee said.
He was described as an Asian man, about 5 feet 7 inches tall, weighing 150 pounds with black salt and pepper hair, and brown eyes.
He was last seen wearing a blue V-neck cardigan sweater, a T-shirt, light khaki pants, white sneakers, and a navy blue baseball cap, his son said. The clothing description offered at Tuesday's news conference differed slight from that provided by the Sheriff's Department in a special bulletin Sunday.
Anyone with information on Lee's whereabouts was asked to call Sheriff's Department investigators at 714-647-7055 or dispatch at 714-647-7000.