This is an archived article and the information in the article may be outdated. Please look at the time stamp on the story to see when it was last updated.
Fueled by drought-ravaged timber and grass, a wildfire has grown to 16,000 acres in an area south of Big Bear in the San Bernardino National Forest, officials said Saturday.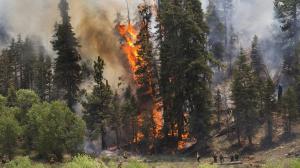 The Lake Fire was 15 percent contained after scorching 25 square miles in the Barton Flats area and the northeastern San Gorgonio Wilderness, according to the multiagency website InciWeb.
"The fire's currently burning in an easterly direction along the Highway 38 corridor," Justin Correll, spokesman for the U.S. Forest Service, said in a morning interview. "So today's plan is to protect that valuable resource … and use it as a location to hold the fire."
No injuries have been reported in the blaze, which broke out Wednesday afternoon. Its cause is under investigation.
Some 1,875 firefighters and support personnel were on the scene, with resources including 121 engines, five air tankers, 16 helicopters and seven bulldozers, the website said, adding that $1,201,004 has been spent in efforts to control the fire.
Although about 500 structures were threatened, none were believed to have been damaged, fire officials said.
The blaze has prompted mandatory evacuation orders for areas east of Angelus Oaks, Onyx Summit, Barton Flats, Seven Oaks, Heart Bar and homes near Rainbow Lane.
#LakeFire: Video of #SBCoFD Dozer2 working with #BDF Dozer3 to establish line during night ops @SanBernardinoNF pic.twitter.com/jXYDFTJF1O

— SB County Fire (@SBCOUNTYFIRE) June 20, 2015
Although a "contingency division" had been established for the Morongo Valley and Pioneertown areas near State Route 62, no evacuations were ordered for those locations, according to authorities.
A section of Highway 38 remained closed from Angelus Oaks to Lake Williams. Motorists were advised to use State Routes 330 and 18 as alternates.
All hiking trails into the San Gorgonio Wilderness were shut down, along with the Pacific Crest Trail between Whitewater Preserve and Onyx Summit.
A smoke advisory, issued by the South Coast Air Quality Management District, remained in effect due to expected unhealthy air quality in the Coachella Valley, the eastern San Bernardino Mountains, and portions of eastern Riverside County.
AQMD urged residents of the affected areas to avoid vigorous exertion; keep windows and doors closed, or seek alternate shelter; and run air conditioners if possible.
https://twitter.com/SanBernardinoNF/status/612318985908948992/photo/1
KTLA's Ashley Soley-Cerro contributed to this report.